The Honourable Alice Wong, Minister of State (Seniors), announced recently that CMHA Ontario is a recipient of New Horizons for Seniors Program funding as part of a collaborative project that aims to reduce social isolation among seniors in Toronto. Close to $3.7 million will be provided over a three-year period to support six interconnected projects that were proposed as an integral part of the Toronto ENgagement to Reduce Isolation of Caregivers at Home and Enhancing Seniors (ENRICHES) Collective Impact Plan. In addition to CMHA Ontario, partners in the plan's six socially innovative projects include the Mount Sinai Hospital Foundation of Toronto, the Reitman Centre at Mount Sinai, WoodGreen Community Services, the Alzheimer Society of Toronto and North York Community House. Additional contributing partners include Toronto Community Housing and Youth Empowering Parents. Together, the organizations contributing to the ENRICHES Impact Plan will work to measurably reduce social isolation among older adults who are caregivers in the Greater Toronto Area.
"These pan-Canadian projects will focus on reducing social isolation among seniors," said Minister Wong. "They will have a tangible impact on older Canadians through creating social connections, strengthening social bonds and building a sense of community."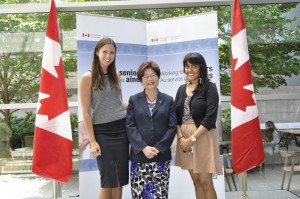 As part of this collaborative, CMHA Ontario will lead Living Life to the Full for Older Adult Caregivers, which aims to enhance the resilience and mental well-being of older adult caregivers in Toronto by improving their ability to cope with life's challenges. In collaboration with community partners, the project will deliver at least 90 sessions of Living Life to the Full, an eight-week (12-hour) skills-building course delivered by trained facilitators to small groups (10-15 participants) in community settings. The project will build upon CMHA Ontario's recent Living Life to the Full older adults pilot project, which found that self-reported benefits for older adult participants in the program included greater social support and new social skills.
"Senior caregivers who are socially isolated may experience inequitable access to healthcare resources due to factors such as culture, language, stigma and discrimination, mobility limitations, and chronic disease," said Camille Quenneville, CEO of CMHA Ontario. "We are honoured to receive this funding, as it will allow us to improve access to mental health promotion services for older adults and build capacity to support coordinated delivery of the Living Life to the Full program by multiple partners."
For more information about Living Life to the Full, visit the CMHA Ontario program page. For more on the announcement, visit the Government of Canada website.