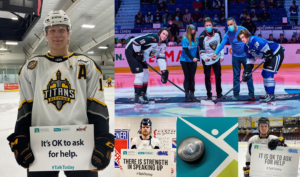 February was Talk Today month across the Canadian Hockey League (CHL) and Canadian Junior Hockey League (CJHL). Throughout the month, teams across Canada helped break down the stigma and raise awareness about mental health resources in their communities.
COVID-19 continues to play a factor in our day to day lives but through the Talk Today program, we've been able to share positive messages about mental health to help hockey fans know that it's ok to ask for help. Thanks to the support of teams across the CHL and CJHL, #TalkToday was able to reach over 2 million followers with 8.9 million impressions on social media and thousands more in arenas during Talk Today game day events.
More than just an awareness program, Talk Today also provides education and support to the players, coaches, staff, and parents/billets throughout both leagues. With the support of 44 local CMHA branches across Canada, more than 5,000 participants in the CHL and CJHL have received mental health and suicide awareness training since the program's inception in 2014.
To learn more about Talk Today visit: https://ontario.cmha.ca/talk-today/