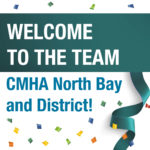 The community mental health, addictions and housing support agency formerly known as Nipissing Mental Health Housing & Support Services (NMHHSS) has officially transitioned to a Canadian Mental Health Association (CMHA) branch. The organization is now known as CMHA North Bay and District.
"Today's news marks the culmination of many months of hard work to ensure individuals experiencing mental health and addictions issues in our community continue to receive the best possible care and services," said CMHA North Bay and District CEO Mary Davis. "There are many benefits to becoming a CMHA and leveraging the expertise of its network of branches across Ontario to improve programs and services for our region. We look forward to bringing our expertise to the network while also learning best practices from our provincial counterparts.
"This is a win in every sense – for our staff, clients and community as a whole."
In October 2020, the then NMHHSS board of directors approved a motion to become a CMHA branch. Participating in the CMHA network will provide NMHHSS clients and staff additional resources, supports and programs. The agency will be able to offer CMHA Ontario provincial programs such as Bounce Back, Mental Health Works, Talk Today, Living Life to the Full, Resilient Minds and In the Know, which are available to clients and the broader public. As well, NMHHSS will be able to access the expertise of CMHA Ontario initiatives like the Centre for Innovation in Campus Mental Health and the Provincial Human Services and Justice Coordinating Committee Secretariat.
Becoming a CMHA also allows the agency to share its expertise with the CMHA network across Ontario and Canada. CMHA North Bay and District brings significant experience, particularly in areas of housing and peer support, which will benefit CMHA branches provincewide.
"This is a proud moment for CMHA as we introduce CMHA North Bay and District to our family," said CMHA Ontario CEO Camille Quenneville. "With this addition today, our network of branches in Ontario is stronger. CMHA North Bay and District is already a well-established leader in community-based mental health and addictions care, and becoming a CMHA will only stand to improve the high level of service clients already receive. We're excited for what's to come."
Learn more about the new branch by visiting their website nbd.cmha.ca and following them on Facebook, Twitter or Instagram.