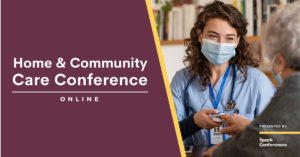 Public health professionals, community leaders, government administrators and professionals from organizations providing care in home and community settings are invited to attend the Home and Community Care online conference on June 9, 2021.
The conference offers insightful sessions on topics such as community care and COVID-19, Nurse Practitioner led clinics, community paramedicine implementation, navigating MAiD in Canada, and more. Participants can expect attend engaging presentations and insightful discussions.
More information and registration for this conference is available at: sparkconferences.com/care/.
Individuals get 15% off with the code EBIRD and groups of 3 or more get 25% off with the code EGROUPS our regular ticket price of $99 until May 12 at 11:59 PM EST.