CMHA Sault Ste. Marie and CMHA Kenora led Talk Today into unchartered territory by helping host awareness games in post-secondary and high school environments.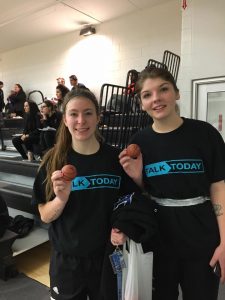 CMHA Sault Ste. Marie teamed up with the men's and women's basketball teams at Sault College, while CMHA Kenora joined forces with a Kenora Catholic District School Board during a hockey game for the St. Thomas Aquinas Saints.
Custom T-shirts, stress basketballs and a student cashing in after sinking a half-court shot all highlighted a successful first Talk Today awareness event at Sault College.
The Sault College Cougars basketball teams hosted back-to-back awareness game days on Feb. 4 and 5 when the Niagara Knights visited.
Players wore Talk Today-branded shirts with positive mental health messaging on the back during warm-ups. CMHA Sault Ste. Marie handed offered miniature basketballs to fans in attendance. And a Sault College aviation student named Amar Khan won $1,000 when he made a shot from half-court during halftime.
The games were broadcast via webcast and had mental health awareness and Talk Today informational videos featuring students from the college.
In September, Sault College became the first post-secondary institution to introduce Talk Today, one of the most comprehensive mental health programs for athletes in Canada.
In Kenora, more than 600 fans attended the Jan. 31 game between the St. Thomas Aquinas Saints and Beaver Brae Broncos.
Featured at the game were noisemakers, a CMHA-run kiosk so fans could learn more about mental health and Talk Today public address announcements about mental health.
The Jan. 31 hockey game was just the latest Talk Today event under this partnership. Awareness events have also occurred at volleyball and basketball games.
This is the second year of the partnership between CMHA Kenora and the local school board. St. Thomas Aquinas remains the only high school to participate in Talk Today.
CMHA Kenora continues to provide safeTALK to educational assistants, parents and senior-aged students. At Sault College, 148 athletes and 29 coaches and athletics staff received safeTALK training.
Before the school-based partnerships in Sault Ste. Marie and Kenora, Talk Today had only been associated with hockey. Talk Today first launched between CMHA Ontario and the Ontario Hockey League in October 2014 and has expanded to other hockey leagues since then. Awareness games are ongoing as evidenced on social media using the hashtag #TalkToday.