Mental Health Accessibility Training for Physical Activity Providers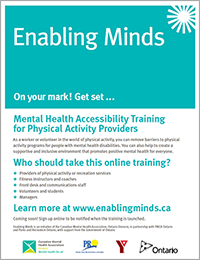 Enabling Minds provides mental health accessibility training for anyone who works in the field of sports, fitness or recreation — especially those with a customer service role.
Physical activity can play an important role in promoting positive mental health and supporting recovery from mental illness. However, people living with a mental health issue may encounter barriers that prevent them from accessing physical activity resources at community centres, private fitness clubs, public parks and other recreation or fitness facilities. These barriers may be related to social determinants such as poverty that disproportionately affect people living with mental illnesses; they may arise from the mental health condition itself; or they may be related to the stigma surrounding mental illness.
The goal of Enabling Minds is to reduce barriers for people with mental health-related disabilities to participate in physical activity programs offered by recreation and fitness organizations.
The Enabling Minds Training Module and Resource Library were created to support organizations in the recreation and physical activity sector to meet the requirements of the customer service and information and communication standards under the Accessibility for Ontarians with Disabilities Act, 2005.