CMHA Ontario and branches throughout the province were pleased to do their part in fighting stigma and raising awareness about mental health in the fourth annual Bell Let's Talk Day. In all, the initiative raised $5,472,585, generating an more than an astonishing 109 million text messages, mobile and long distance calls, Tweets and Facebook shares. The work of CMHA Branches in Ontario didn't go  unnoticed either. Below are links to a sampling of media coverage:
CMHA Haliburton  Kawartha Pine Ridge
CMHA National CEO Peter Coleridge appeared in print media as well after being interviewed by the Canadian Press. He was also a guest on national television when he was interviewed by CTV Newsnet about the impact of Bell's campaign. Coleridge spoke about the need for mental health to be treated the same as physical health and lauded Bell Let's Talk for the way the initiative creates dialogue about an issue that was once considered taboo. Watch the CTV Newsnet interview.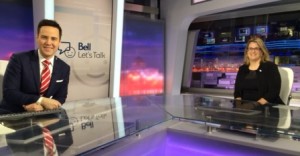 Kathy Jurgens, National Program Director for Mental Health Works – a Canada wide program based at CMHA Ontario – was also a guest on CTV Newsnet. Jurgens spoke about the benefits of a psychologically-healthy workplace and provided tips on how to foster a supportive work environment so that employers and employees can speak freely about mental health.