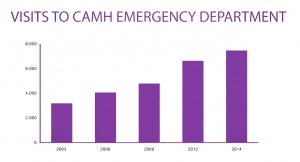 The Centre for Addiction and Mental Health (CAMH) in Toronto has upgraded and renamed its psychiatric emergency department. The Gerald Sheff and Shanitha Kachan Emergency Department (ED) represents the first phase of a project to expand emergency services at the hospital. 
Canadian Mental Health Association, Ontario sees this as a welcome step to improving access to services for individuals experiencing a mental health crisis in the Greater Toronto Area. However, this facility is Ontario's only psychiatric ED and, many communities in Ontario continue to lack access to psychiatric emergency services.
In Toronto, there is no shortage of demand. The CAMH facility is maxed out. It provides 24-hour, seven-day-a-week care for its patients. According to CAMH, visits to the ED have increased dramatically, with 76 percent more visits in 2014 than in 2006. While it is significant that more people are seeking help, these numbers also signal the continued lack of access to community mental health services and supports, primary health care and community-based psychiatric care, especially in the Toronto area.
For information on emergency wait times and how CMHA Ontario advocates for improvements, visit the CMHA Ontario website. For more information on this ED renovation, go to the CAMH website.