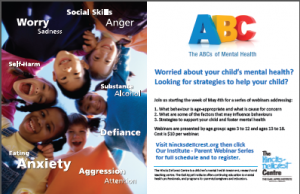 The mission of The Hincks-Dellcrest Centre – Gail Appel Institute is to build knowledge and capacity in children and families' mental health through education and outreach. The institute offers education to those who work with children and families in a variety of mental health professions. The goal is to provide the highest quality learning available.
If you're interested, an easy way to check out the educational opportunities is to visit the institute's training catalogue.
The institute is also pleased to provide online seminars for parents and caregivers who may have questions about their child's behaviour. Each webinar covers a different behaviour for a particular age group and answers the following questions:
What behaviour is age-appropriate and what is cause for concern?
What are some of the factors that may influence behaviours?
What are some strategies you can use to support your child and foster mental health?
Read more or download the parent seminar flyer.